Events Schedule - Autumn / Winter 2017
Racehorse to Riding Horse Christmas Show
Sunday 3 December from 9.30am - bring your best festive spirit to the Racehorse to Riding Horse Ireland (Northern Region) Christmas show at Lessans, kindly sponsored by Geoffrey Ruddock.
Full schedule below, including showing and fun classes for all types of horses and ponies - not just for the thoroughbreds! And there are even some fun doggy classes too! Everyone very welcome; festive outfits and tinsel a must...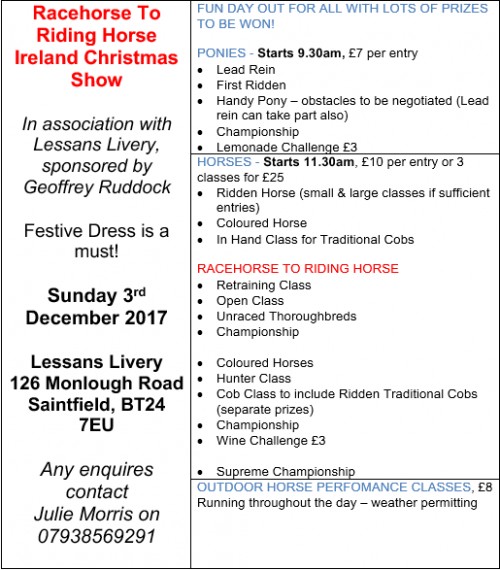 Christmas Mounted / Unmounted Games!
Sunday 10 December @ 1pm - tinsel-tastic fun at Lessans with an afternoon of Christmas-themed mounted and unmounted games; fun for all the family (and that means the adults too)! Festive fancy dress a must - more details to follow...
Sunday 17 December from 1pm - Join us for a Festive Fun Dressage Day, where you can try your hand at dressage without the 'stress-age'! Tests can be ridden at Walk/Trot (assisted or unassisted), Prelim and Novice levels. Tests will be judged by List 6 dressage judge Lynne Tennis and additional feedback will be given to each rider after their test, making it ideal for dressage first-timers of all ages and abilities, for those on young horses, or for riders who still need some lead-rein help. A special prize will be on offer for the most festive turnout on the day, so show gear and plaiting aren't necessary, though the effort will be appreciated!
Prizes and rosettes. Entries must be in by noon on Friday 15 December via the Lessans facebook page, so that approximate start times can be given (test details to follow).
£10 per test, entry fees must be paid in advance.
Wednesday 27 December - MUST be booked in advance; more details to follow.
Friday 29 December - get your bling on! More details to follow...
Working Hunter NI Festival Qualifier
Sunday 7 January 2018 from 9am - Working Hunter classes for horses and ponies at a variety of heights and abilities; this will be a qualifying competition for the 2018 NI Festival. A full class schedule will be posted on the this website and on our facebook event listing ASAP.
£15 per round, entries on the field.
For more information on events, contact Philippa Auret at Lessans Riding Stables on 028 9751 0141 or 07808923894. And don't forget to follow us on facebook for our most up-to-date news!